VoLANteers Help With Keep Austin Beautiful's Clean-Up Effort
April is perfect for spending time outdoors, especially for a good cause like Keep Austin Beautiful's annual Clean Sweep program. For the last 30 years, this non-profit has inspired an armada of Austinites to take care of our environment by hosting a city-wide service day to clean up the city. Spanning 130-plus sites throughout Austin, this massive clean-up program has helped remove more than 29 tons of trash each year.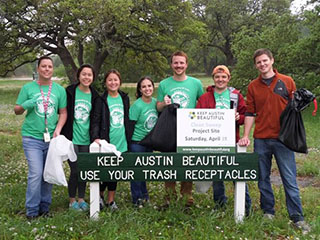 This year, on April 11th, our Austin office joined in the organization's cleanup effort. Last year, a group of voLANteers had participated in this program and enjoyed it immensely. This year, we had even more voLANteers. A few even brought their spouses.
Donning T-shirt, jeans, tennis shoes and gloves, we set about collecting trash and recyclables from the Schroeter Neighborhood Park. Splitting into pairs and working efficiently, we took only 45 minutes to clean the park, which was already in fairly good condition thanks to the City's efforts. Then, we headed over to Little Walnut Creek, which was not in great condition and needed attention, and spent an additional hour and a half cleaning that site. When we were done, we had cleaned more than a mile of the park area and creek and collected half a dozen bags of trash and recyclables. It was not only a fun activity but also a team-building exercise.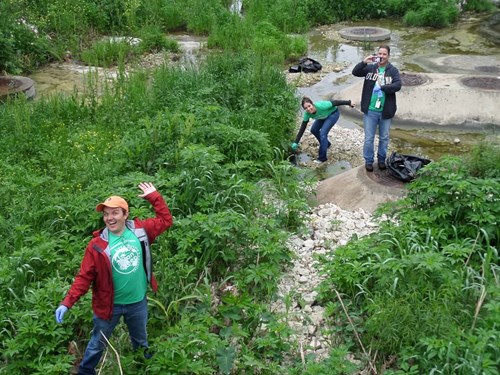 Overall, Keep Austin Beautiful's 30th Clean Sweep was a great success and topped last year's results. As many as 4,200 volunteers beautified streets, parks, schools, and creeks throughout the whole city and our beloved Lady Bird Lake. The effort covered a record-breaking 164 registered sites in 32 zip codes. We were happy to play a small part in keeping this wonderful city clean and environmentally-friendly.
Next time, we are planning on cleaning the Bull Creek Greenbelt that is right down the road from our new Austin office. It is a much more public area with probably more trash!