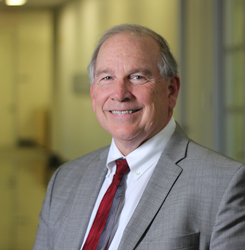 Donald Stevens, CHFM, CHC, CPHRM, CHCPEW
Director, Healthcare Engineering & Design

Education
Bachelor of Science, Business & Public Administration – Accounting, University of Missouri – Columbia
Profile
Mr. Stevens has more than 30 years of facility construction, maintenance, and operations management experience and is Director of Healthcare Engineering and Design for LAN. His background includes maintaining physical facilities, managing facility operations for public and private medical and educational clients, and leading Environment of Care (EOC) and Building Life Safety (BLS) Joint Commission surveys for healthcare entities. He has managed millions of dollars of capital for new construction and renovation projects and provided operational oversight of large facility portfolios valued at $15 billion.
He was previously Vice President of Facilities Management for Baylor Scott & White Health, the largest not-for-profit healthcare system in Texas which includes 50 hospitals, more than 800 patient care sites, and more than 7,500 active physicians. His additional experience includes several roles with Kaiser Permanente including Executive Director of Support Services for the Northern California Region and Executive director of National Facility Services for the Hawaii Region. Don also acted as Director of Facilities at the Bothwell Regional health Center and served on the senior leadership team for the University of Missouri Hospital and Clinics for the Acquisition of three major hospitals.
In addition to his professional experience, Don has served on various healthcare related committees including the American Society for Healthcare Engineer. He was also an adjunct professor for the University of Missouri College of Engineering and an instructor for various trade schools.
.
Certifications / Licenses
Certified Healthcare Facility Manager
Certified Healthcare Constructor
Certified Professional Healthcare Risk Manager
Certified Healthcare Construction Physical Environment Worker
Affiliations
American Society for Health Care Engineering (ASHE)
Texas Association of Healthcare Facilities Management (TAHFM)