Baking and VoLANteering to feed Houston's Hungry
On June 12th the Houston VoLANteers held their annual bake sale. This year they opted to expand by moving the sale to the first-floor lobby of the Houston office while keeping the silent auction items in LAN's conference room. By relocating the bake sale, the VoLANteers were able to more than double last year's revenue. The items for sale included homemade hummus, pudding, cookies, dog treats, cakes, brownies, bread & cookies.
All bake sale proceeds and LAN food drive donations went to the Houston Food Bank (HFB) on July 19th, which ended up being a total of 694 lbs. of food and $318. Also, eleven VoLANteers donated their time at the Houston Food Bank's "Feed n' Lead" volunteering program.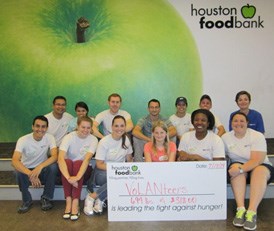 The majority of the VoLANteers helped the Community Supplemental Food Program (CSFP) by packing boxes. The CSFP program helps feed 7,800 seniors by providing them with a box of food each month with a retail value of $50.
The group put the "team" in teamwork by breaking an HFB record by packing 1,295 boxes equaling 37 pallets in just three hours! The previous record was set at 25 pallets in 4 hours.
For more information on how to help feed the hungry in Houston, please go to www.houstonfoodbank.org