Disaster Recovery & Mitigation
Providing the Support Communities Need
When They Need it the Most
LAN has a long-standing history of providing recovery and mitigation services for our communities' critical infrastructure in the wake of natural disasters. This history of service includes providing support to our clients for every major storm event in Texas in the past 80 years.
Our experts provide a complete range of post-disaster recovery and pre-disaster mitigation services, including damage assessments, securing funding for repair and mitigation projects, emergency remediation, long-term remediation design, and hazard mitigation strategy development.
Project Funding Solutions
Infrastructure is the physical backbone of our society. One of the primary challenges to building and maintaining a strong and healthy infrastructure system is the availability of funding. LAN's Project Funding and Grant Services Team specializes in helping our clients secure funds for projects that help reduce risk and create safer, more disaster-resilient communities.
Our teams have helped our clients identify billions of dollars in pre- and post- disaster project funding. We work with cities, counties, schools, utility districts, and stakeholder groups to identify qualifying infrastructure improvement projects, match them with local and federal funding opportunities, and prepare grant applications. Our infrastructure design teams leverage their project and grant expertise to develop project concepts, estimate costs, evaluate impacts, and help our clients navigate the grant process.
LAN's grant and subsidized loan award experience includes, but is not limited to:
FEMA Hazard Mitigation Grant Program (HMGP)
FEMA Flood Mitigation Assistance (FMA)
FEMA Building Resilient Infrastructure and Communities (BRIC)
FEMA Public Assistance (PA)
GLO Community Development Block Grant – Disaster Recovery (CDBR-DR)
GLO Community Development Block Grant – Mitigation (CDBG)
TWDB Clean Water State Revolving Fund (CWSRF)
TWDB Drinking Water State Revolving Fund (DWSRF)
TWDB Flood Infrastructure Fund (FIF)
TWDB Water Development Fund (DFund)
Better Utilizing Investments to Leverage Development (BUILD)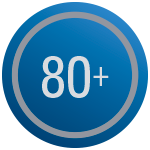 LAN has been providing disaster recovery and mitigation services to our clients for more than 80 years.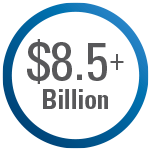 LAN is tracking over $8.5 billion in grant dollars and subsidized loans for disaster response and mitigation infrastructure projects.
Disaster Response, Recovery & Mitigation Leadership