Identify, Minimize and Prioritize-
the Keys to Effective Stormwater
Management
Our stormwater staff specializes in defining critical problem areas, identifying cost-effective solutions that maximize value, minimizing impacts to the community, and objectively prioritizing projects. LAN incorporates the latest technology such as 2-dimensional modeling and GIS-based tools to deliver clear, effective, and easily communicated solutions.
The strength of our Stormwater Management Group lies with our innovation, diversity, and range of experience. LAN offers the complete spectrum of stormwater services, from initial planning and feasibility studies, to experienced design engineering and construction support. We offer a range of specific experience with all phases of drainage improvement and stormwater quality.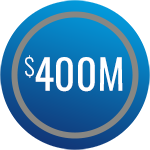 Stormwater and Drainage Leadership